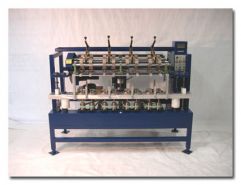 Twisting and drafting of fibers in a long continuous thread.
Plying: Joining the two threads together for a stronger yarn.
Skeining: Taking the yarn off the cones and putting into
 hanks for hand Knitters.
After spinning your yarn as a single, it is then plied for a stronger yarn and nicer finish.  You may have your choice of Lace weight, Fingering weight, Sport weight, Medium (worsted) weight or bulky weight yarn.  After the yarn has been plied, it is then steamed to lock in the twist.  From here we either leave your yarn on a cone or put it into skeins.  Washing the spinning oil out of your skeins is the final process.  This step also enhances the loft and softness of your yarn.